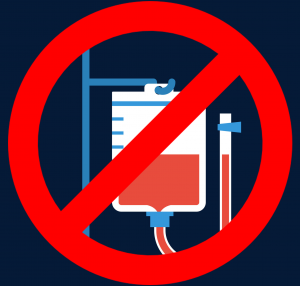 Is Bloodless Heart Surgery Better Than Standard Heart Surgery?
Does over-using blood transfusion increase the risk of heart surgery and other major operations? Jehovah's Witnesses, whose religion forbids the use of blood transfusions, have made it possible to study this question in a natural experiment of Bloodless Surgery vs usual transfusion practice.
Cleveland Clinic Study of Bloodless Surgery
The Cleveland Clinic published its 28 year Bloodless Heart Surgery experience  in Jehovah's Witnesses. The study showed superior results in Bloodless Heart Surgery patients when compared with the rest of their patient population. The paper was published in the AMA's Archives of Internal Medicine on July 12, 2012.
Englewood Hospital and Medical Center viewed this study with great interest, since we are a referral center for Jehovah's Witnesses, who come from all over the East Coast for procedures at our Bloodless Surgery program,
Across the US, most patients having heart surgery receive blood transfusions as part of their procedure. In many heart surgery centers, up to 88% of patients get blood or blood products like red cells, platelets or other components of blood. Because Jehovah's Witnesses are not permitted to undergo blood transfusion under any circumstances because of their religious beliefs, heart surgery for them is a serious challenge. Their special situation has created an opportunity for us to learn about the positive and negative aspects of blood transfusion.
What are the Drawbacks of Blood Transfusion?
In recent years the drawbacks of blood transfusion have become much more evident. Blood transfusion rarely cause infection from such diseases as HIV, hepatitis, and other organisms. Transfusions can also impair the immune system and potentially cause many related problems.  On the other hand, doctors have worried that withholding blood products from Jehovah's Witnesses may increase the risk of complications or death.
How is it Possible to Do Major Surgery without Blood Transfusion?
Doctors have been concerned about the risks of blood transfusion and the necessity of operating on patients who refuse blood. So leaders in the field have developed techniques that permit safe heart surgery on patients that cannot accept transfusions. Many of these Bloodless Surgery techniques were pioneered at Englewood Hospital and Medical Center.
First and foremost, meticulous surgical technique must be used to prevent blood loss in the first place. Second, before a case starts, doctors will draw off several units of blood, store it in a vessel continuous with the patient's own system, and then infuse the blood back at the end of surgery. The blood that is drawn off at the beginning of the surgery is replaced with salt solution that dilutes the patient's blood during the surgery, so that any blood that is lost contains fewer precious red blood cells. Doctors also collect blood shed from bleeding during a case, wash and condition it, and then infuse it back into the patient at the end of surgery. In patients who are anemic prior to surgery, doctors boost patients' blood counts with a hormone called erythropoietin, and give extra iron and vitamins to correct the anemia before the operation.
Results of the Cleveland Clinic Bloodless Study.
The Cleveland Clinic recognized that they may be able to answer the question of whether the net effect of withholding blood transfusion is good or bad
The Cleveland Clinic had operated on 322 Jehovah's Witnesses during a 28 year period, and so they compared the surgical outcomes of Witnesses with an equal number of carefully matched patients. They found, somewhat surprisingly, that the patients who had Bloodless Surgery actually did better than matched patients who got the usual high rate of blood transfusion. Bloodless Surgery patients had far fewer heart attacks, and they needed to be in the intensive care unit for less time. They spent less time on the breathing machine, and got out of the hospital sooner. Furthermore, there was a trend toward a better 1 year survival in the Bloodless Surgery patients.
The Cleveland Clinic has been so encouraged by these results that they are considering broadening the use of Bloodless Surgery techniques to all their heart surgery patients.
Englewood Hospital and Medical Center's Bloodless Surgery Program
At Englewood Hospital and Medical Center, Bloodless Heart Surgery has been the standard of care since 2001. At that time the State of New Jersey granted approval for the establishment of our Bloodless Surgery demonstration program. Englewood Hospital has since become a referral center for Bloodless Surgery and for Jehovah's Witnesses in the Northeastern US.  In distinction to the Cleveland Clinic, Englewood Hospital applies Bloodless Surgery techniques to all patients. As a result, Englewood Hospital's Cardiac Surgery program has compiled an impressive record: Our program has had zero patient deaths within 30 days of coronary bypass surgery for the last four 1 year periods, as reported by the State of New Jersey.
In part because patients do not need to be Jehovah's Witnesses to obtain the benefit of Bloodless Surgery, Englewood Hospital and Medical Center has been one of the safest places in the US to have heart surgery.