TAVR: Replacing the Aortic Valve without Open Heart Surgery
At Englewood Cardiology Consultants, we offer a revolutionary procedure called TAVR (Transcatheter Aortic Valve Replacement) that can increase longevity and relieve symptoms in patients with severe aortic stenosis. In aortic stenosis, a progressive buildup of calcium in the valve leaflets restricts the opening of the valve and impairs the function of the heart.
TAVR is a minimally invasive procedure that allows us to replace an abnormal aortic valve without the need for open heart surgery. This streamlined minimally invasive procedure inserts a new valve through a small puncture in the leg instead of opening the chest to replace the valve. This innovative approach offers many benefits for our patients, including:
• Reduced cardiovascular risk and prolonged life
• Improved quality of life, allowing an increase in activity and a decrease in symptoms such as shortness of breath and chest pain
• Much shorter recovery time when compared to open heart surgery
• Reduced risk of complications compared to traditional surgery
• Even elderly and frail patients who are not candidates for open heart surgery can be treated with TAVR.
The diagram below shows an example of a balloon expandable TAVR valve: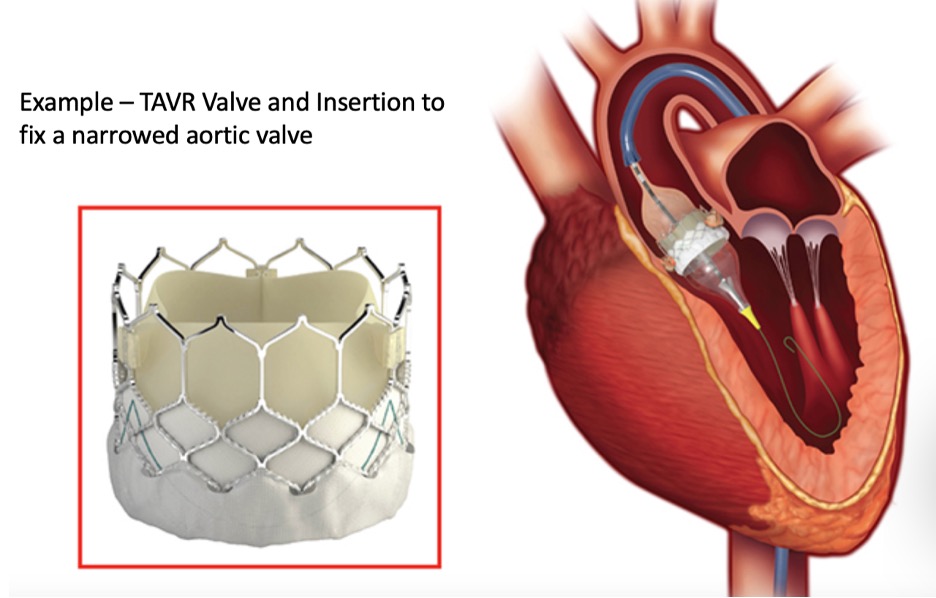 Our skilled Structural Heart Disease team has worked together since 2012 to bring the most advanced minimally invasive therapies to our patients with aortic stenosis. We are experts in employing clinical assessment and special imaging modalities, including echocardiography and CT angiography, to define the severity of aortic valve disease and to plan individualized therapy. We excel at optimizing the timing of advanced therapies when symptoms develop and when there are warnings of critical cardiovascular compromise.
Over a decade ago, Richard S. Goldweit, MD, Chief of Interventional Cardiology, helped bring this transformative TAVR technology to Englewood Health. As a program co-director he helped put together a team that received national recognition from the American College of Cardiology for its safety, quality and excellence. Englewood Hospital and Medical Center is the first in Bergen County to receive certification, and is one of only 3 in New Jersey and 70 institutions nationwide.
Dr. Goldweit has been the primary operator on hundreds of TAVR procedures using minimally invasive techniques and state of the art interventional skills to optimize outcomes. Dr. Goldweit explains, "Most valves are deployed in less than 10 seconds and the entire TAVR procedure can take less than 60 minutes with the patient going home in one day." His patients benefit from techniques that prevent bleeding and stroke using advanced techniques to reduce risks that can be considered prohibitive by heart teams at other institutions.
If you have a heart murmur and suffer from a diseased aortic valve, Englewood Cardiology Consultants can help you learn more about treatment options including TAVR and how it may extend your life and improve its quality.
Richard S. Goldweit, MD, FACC, FSCAI
Chief of Interventional Cardiology
Chief of Cardiac Catheterization Laboratory